When it comes to finding the best home for your IT infrastructure, the two most important measures of reliability and uptime must be considered. When looking for a consistent and credible point of comparison, two organisations are recognised for setting global data centre standards.
TIA vs. Uptime Institute
Uptime Institute Tier guidelines address only the mechanical and electrical infrastructure elements, missing several critical factors including communications, architecture, site location, safety and security.
Additionally, Uptime Institute is not an officially accredited standard and lacks an official accreditation scheme by which a certified body can independently audit data centre operators and facilities.
How a data centre is constructed is just as important as where it's located and who has access to it.
The Telecommunications Industry Association (TIA) provides a complete set of global standards for data centre operators backed by an official and comprehensive accreditation scheme and specific independent audit requirements to protect customers' interests.
More specifically, ANSI/TIA-942 accreditation considers electrical and mechanical basics along with site location, architectural aspects, physical security, fire safety, and telecommunications.
Inside and out, the TIA-942 standard is globally recognised and accepted as the preferred standard to assess and compare data centre facilities. Specifically, YourDC's flagship facility at Edinburgh Parks is Rated 3 ANSI/TIA-942, guaranteeing
Multiple delivery paths for power and cooling
Redundant critical components
Fully fault-electrical, storage and distribution networks into the facility
Utilising an accredited data centre with world-class security, efficiency, and quality management boosts the performance, reliability and uptime of any organisations ICT infrastructure.
YourDC operates South Australia's only data centre certified by the Telecommunications Industry Association (TIA) internationally recognised rating standards. Choosing to build and certify this comprehensive set of standards underpins our customers' commitment to quality and premium data centre services.
International Organisation for Standardization (ISO) certifications
Highly reputable and globally recognised, the International Organisation for Standardization (ISO) is an independent, non-governmental international organisation that develops standards to ensure the quality, safety and efficiency of products, services and systems.
Consistency is the primary purpose of the ISO standards. Think of it as a third-party seal of approval that the certified business is well structured and well run.
Organisations holding ISO certifications must have an established and well-maintained business management system that offers customers a baseline assurance of quality and commitment to continual improvement.
YourDC invests in the ISO certifications to deliver high-quality data centre services underpinned by a customer-first culture to give customers the confidence that their most valuable digital assets are protected and connected – 100% guaranteed.
ISO9001:2015 Quality Management System – to help work more efficiently and reduce service issues and failures
ISO27001:2013 Information Security Management System - help keep sensitive information secure
"The ability to talk to clients about private cloud within a highly reputable, certified data centre gives us a competitive advantage and strengthens our credibility in the market." Tim Williams, Williams Technology
Defence Industry Security Program (DISP)
A DISP membership is highly regarded for any organisation wanting to supply the defence sector, especially when the work is potentially sensitive. By their very nature, data centres are built to protect sensitive data and valuable infrastructure, making a DISP membership essential for future growth.
Our membership with DISP requires a security assessment on YourDC's personnel, physical premises, information and cybersecurity and overall governance.
Committed to growing our membership status, YourDC is constantly evolving facilities, people and practices to build on existing Defence grade standards for physical and cybersecurity and governance.
Additionally, DISP Membership helps opens up opportunities for us to partner with the defence sector and competitively tender for future businesses delivering world-class infrastructure solutions.
Summary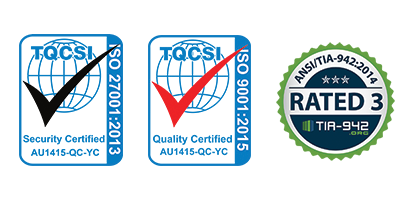 These standards form an integral part of a customer's due diligence, building confidence and certainty and reducing risk across the board. Every day YourDC guarantee IT infrastructure vitals, including reliable power, cooling, connectivity and security, so our customers can get on with business.